Committed To Excellence
McHenry Corporate Events & Catering
Need to make a memorable impression? From lunch meetings to gala events to cocktail receptions to company picnics, we are here to wow your employees and clients.
We take your business event as seriously as you take your business.
You're in good hands with 31 North Banquets & Catering because we take care of everything from the delicious food to the beautiful table linens.
Our on-site event coordinators will work with you to make all the necessary arrangements to ensure your event is a huge success.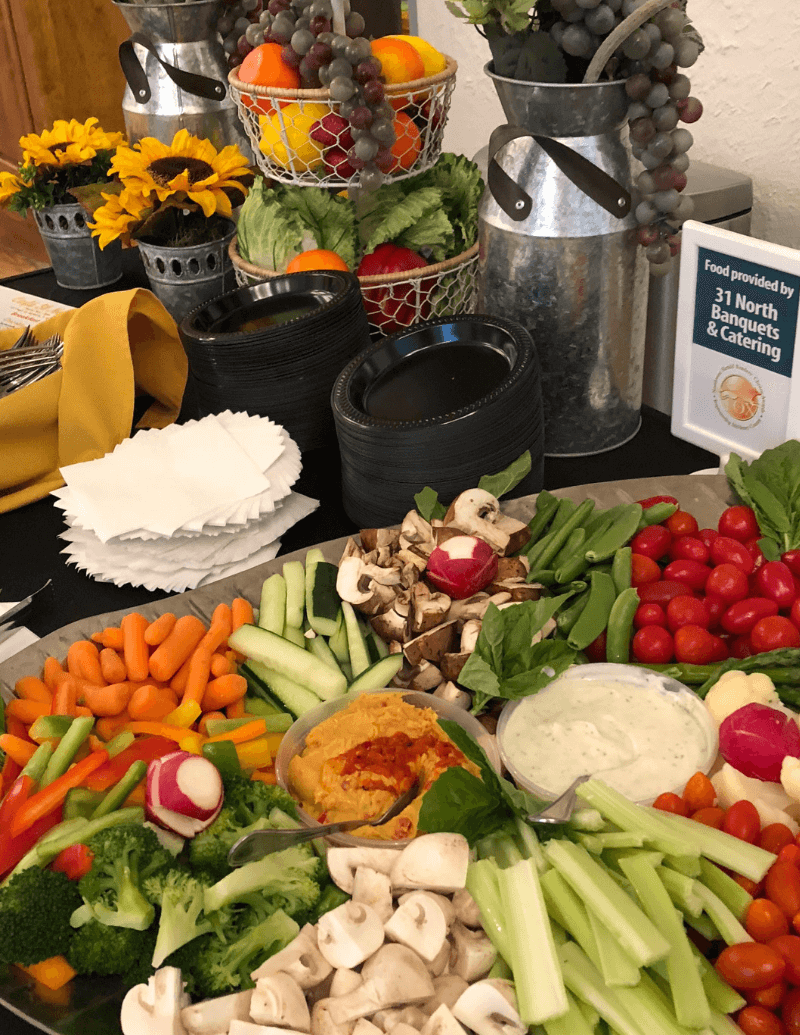 Lunch Meetings
Seminars / Workshops
Company Picnics
Cocktail Receptions
Gala Events
and more!
Corporate Testimonial
"We are in the business of planning large events on a monthly basis and what stands out most about our experience at 31 North Banquet and Conference Center, is their attention to all details that truly matter with event planning and coordination. From the moment you enter, you are confident that your guests will be comfortable and impressed with the decor, the lay-out, and the amenities that 31 North offers. The dining experience was exceptional, in the fact that every entree selected was plated beautifully and tasted delicious. The servers were attentive, timely and courteous. Many guests spoke highly of their meal throughout the evening, with the selection of desserts being no exception! Thank you, 31 North, for making our job very easy – knowing that you will handle every detail with professionalism and class."

– Lori Ciezak, McHenry County Council of Governments
Corporate Testimonial
"It's a pleasure having 31 North host our events. Facility is lovely, ambiance first rate and menu receives rave reviews. Not to mention the service. 31 North's trained staff go above and beyond in making our guests feel comfortable. Best yet, with 31 North hosting, I feel like a guest at my own event!"

– Kay Rial Bates, President McHenry Area Chamber of Commerce.
Corporate Testimonial
"I found 31 North to be a wonder place to hold any type of event. The food was great! I enjoy cooking and the dinners were wonderful. We had leftovers at home and it was still great. The facility is well thought out, lighting is perfect for holding workshops and other events. In the board room the lighting is such that you can turn off the recessed lighting and leave the large lamp in the middle of the room on. This darkens the screen, but yet leaves plenty of light for taking notes or being able to see handouts. Great touch! The room is also large enough to be able to move around, no sight problems or sound issues. Everyone could see and hear what I was saying. Thank you for having us there."

– Brian Luedke, Financial Consultant, Thrivent Financial
Corporate Testimonial
"We hosted our annual company Christmas Party on Saturday evening, December 17th 2011, for the first time at 31 North. Having tried other local venues, where we had shared our space with other parties going on that evening, it was really nice having our own room where our employees could mingle and chat before dinner and after dinner. The room was beautifully decorated and everyone felt at ease and relaxed. We had opted for a dinner buffet, the food was tasty, hot and presented well. The waitressing staff was courteous and discreet. Our Christmas party is a small affair, but the room did not feel too big and everyone enjoyed themselves. We are hoping to use "31 North" again for our Christmas Party in December 2012."

– Jean Gastall, NonWoven Solutions
Give us a call at (815) 344-0330 or complete the form below to send us a quick message about your event, and we will follow up within 24 hours.